Welsh League
Division 3
Tuesday 5th December 2017
Kick Off 20.00 Actual 20.04
Swansea University 1 Ynysygerwn 0,  attendance 124
75' 1-0
@ Swansea University Sports Centre Stadium
Sketty Lane
Swansea
SA2 8QB
£2 Admission, including Programme, 8 pages.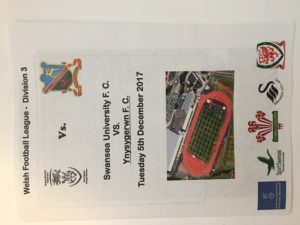 When you first read the match programme, it soon becomes apparent that English Language is not one of the courses on offer at the University. The punctuation is dreadful and as for the sentence including "every time you cross onto the pitch YOUR not just representing the team"……… Obviously needs a proof reader.
Anyway, as for the match, Swansea made really hard work of this one, but finally nicked it late on, to cement their second place in the league table. They have now won nine and drawn one, of their first eleven matches. The visitors had only lost twice before tonight, but the fact that they have drawn their other five matches, means they sit one off the bottom of the league. They were quite well organised at the back, but just never looked capable of scoring.