Southern League
Premier Division
Tuesday 16th January 2018
Kick Off 19.45 Actual 19.47
Slough Town 2 Dorchester Town 0,  attendance 436
8' 1-0
45' 2-0
@ Arbour Park
Stoke Road
SL2 5AY
£11 Admission
£2 Programme, 40 pages.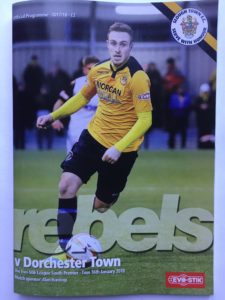 I visited their former home, Wexham Park Stadium, nearly 28 years ago, when they played at the top level of non-league football (20th October 1990, Slough Town 3 Barrow 0, attendance 928, Conference). At the end of season 2002/03 they were evicted by the stadium owners, which meant groundshares at Windsor & Eton and Beaconsfield S.Y.C.O.B. before moving into their new home, here at Arbour Park, in August 2016. The stadium at Wexham Park is less than a mile from here and is still intact, but in a state of serious disrepair.
The new stadium, although impressive, was obviously designed for hot, dry, days. With at least a foot gap at the top of the covered ends, between the back of the stand and the roof, means the wind howls through, which is the same on the seated section opposite the main stand. As for the main stand, the roof is so high, it is debatable whether it would actually stop you getting a soaking when it rains, unless you were in the middle section towards the back, perhaps.
Having arrived at around 18.20, having left home early to give myself a chance of making it around the M25, I was able to get one of the 120 free car park spaces behind the north end of the ground. The spaces didnt really fill up until around half an hour before kick off, maybe due to this being the lowest league crowd at Slough this season. In fact, the official crowd of 436 looked to be nearer to 300, if truth be told.
The match was 8th v 19th (out of 24) in the league table and went pretty much as expected. Slough could easily have won it by a larger margin, with Dorchester offering very little up front. Slough are now up to sixth in the table, twelve points off the top, but have six games in hand over all those above them, except for Hereford (2 games).
This visit completed Step 3 for me, as well as everything from Premier League down to Step 5. As for Step 6, I am left with eight more to go……Oakham United, Penn & Tylers Green (the only one not floodlit), Fisher, Alton, Hythe & Dibden, Bristol Telephones, Helston Athletic and Sticker.