Belgium
Division 3 Amateurs A.C.F.F. A
Sunday 21st January 2018
Kick Off 14.30 Actual 14.29
R. Racing Club Waterloo 2 R.F.C. Tournai 2,  attendance 116
6' 0-1
13' 1-1
25' 2-1
46' 2-2
@ Complexe Sportif De Joli Bois
Chaussee Bara
1410 Waterloo
€10 Admission
Team Sheet, free.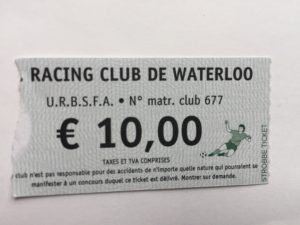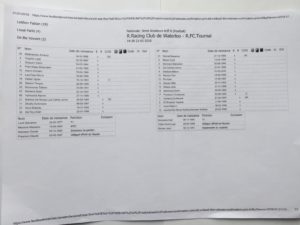 With the driver and one passenger heading for R.A.S. Jodoigne (Brabant Provincial 1), a ground I have already visited when they were in Provincial 3, the other two of us decided to be dropped off in Waterloo, to take in a match in the bottom level of the Belgian League.
Waterloo are bottom of the league, managing just 7 points before today and on the back of seven successive defeats. Tournai, on the other hand, had won their last three games and arrived here in fourth place in the league table. When Tournai took the lead early on (photo No.10, below), it looked to be going the way we expected, but Waterloo soon turned it round, then eight minutes after going in front, they had a man sent off for a second yellow card in a matter of minutes. Having conceded the equaliser just seconds into the second half, it looked like it would be too long for them to hold out, but hold out they did, and in the last ten minutes they actually had a couple of chances to nick it.
We had a wait of just over an hour before being picked up at the agreed meeting point, out towards the motorway, so time to warm up in the Clubhouse with a coffee, where surprisingly, there was also free WiFi available.
The Tunnel didn't fair too badly this week, but still managed to be eight minutes late on the outbound journey, then nine minutes late on our scheduled return aboard the 20.20 train.