Wessex League
Division 1
Tuesday 6th February 2018
Kick Off 20.00. On Time !
Hythe & Dibden 4 East Cowes Victoria Athletic 0,  attendance 41
26' 1-0
42' 2-0
68' 3-0
83' 4-0
@ Clayfields Sports Centre
Claypits Lane
Dibden
SO45 5TN
£5 Admission
Programme free, 16 pages.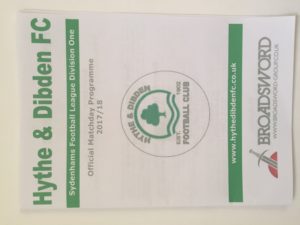 Hythe & Dibden moved here in 2014, having previously played at Ewart Recreation Ground, which I had visited on 20th January 2004, when they lost 2-4 versus Portsmouth Royal Navy in a Hampshire League, Trophyman Cup 3rd Round match.
Tonights match was moved to an 8pm kick off at the request of the visitors, to better suit the ferry times from the Isle of Wight. It was a basement battle, with it being third bottom versus fourth bottom in the league table, although the win lifts the hosts a couple of places. It was pretty comfortable once the deadlock was broken and the third goal of the night was the pick of the bunch, when a poor clearance was hit back over the 'keeper from 40 yards.