Belgium
National League
Division 3 Amateurs
Sunday 3rd December 2017
Kick Off 14.30 Actual 14.32
K.F.C. Merelbeke 1 K.V.K. Ninove 1,  attendance 247
42' 0-1
90' 1-1
@ Kloosterstraat
9820 Merelbeke
€10 Admission
Team Sheet, free.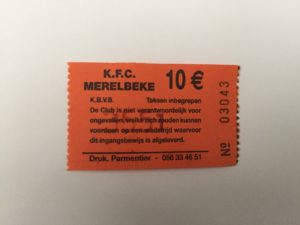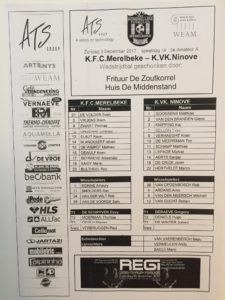 I had previously visited Merelbeke, back on 24th August 2014 (2-1 versus K.V.V. Vlaamse Ardennen, Oost Vlaanderen Provincial Cup) which was my third match that day (having been to Bon Air Sport and K.V.C. Itna Itterbeek earlier that afternoon, for Brabant Provincial Cup matches). However, on that occasion, the match was played at their 'B' ground, Sportcomplex Ter Wallen.
The fixtures had fallen perfectly today, as there were two 6 o'clock kick offs scheduled in the Oost Vlaanderen Provincial 1, both of which I needed, and both less than half an hours drive from Merelbeke. The weather forecast for the Gent area was for a cloudy 8 degrees. Unfortunately, forecasts can be totally wrong and today was certainly the case. As the SatNav was showing we were just 13 minutes from our destination, we noticed the fields had suddenly turned white, with a good covering of snow ! Despite it being dry and 6 degrees, this might cause us a problem.
We decided to have lunch, as we would need food, regardless of whether the match was going to be on or not. We also had plenty of time to head back in to West Vlaanderen, as we knew the weather there was fine, so we would be guaranteed of getting a match in today, even if it wasn't our intended one. We arrived at the ground around 13.50, to be told by the gateman, that the game was on, despite the pitch being covered in snow, although a group of volunteers were putting in a superb effort, having already cleared the lines, they were now starting to remove the snow from a vast majority of the goal areas as well ! If this had been in England, there is no way the match would have taken place, as our clubs look at every possibility of calling a match off if they can, rather than the attitude taken here, that it is the same for both teams and not dangerous in any way. The snow around the terrace and walkways would have had the health and safety brigade up in arms back home, but thankfully, here, common sense prevailed.
Despite the snow, this was a decent contest. Ninove, backed by a good following, deserved their halftime lead, but were unable to add to it. Merelbeke, who were tenth in the league table, two places above the visitors, came on strong towards the end of the match and bagged a deserved last minute equaliser. As Ninove re-started the match, the clock above the changing rooms clicked to 90.00 minutes played and the Referee blew his whistle for full time. The decision did not go down well with the hosts, as there was no time added for any of the substitutions, or an injury that had taken place in the last few minutes. Despite getting the last gasp point, they still felt they had a winning goal in them !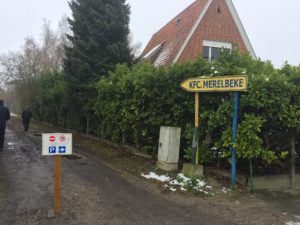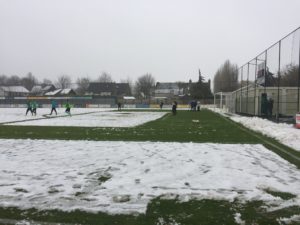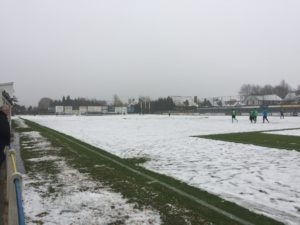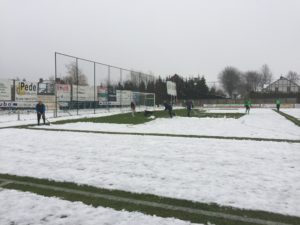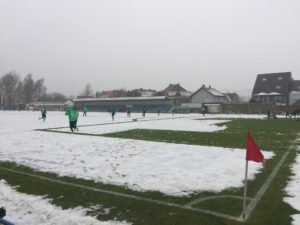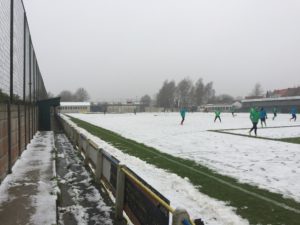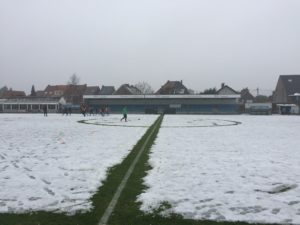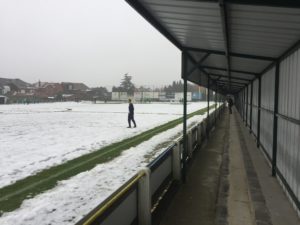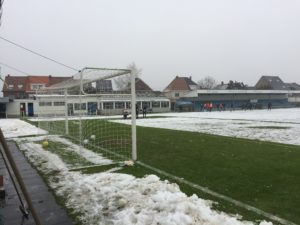 Well done to everyone who made sure that the game went ahead today. Now on to the action………