National Collegiate  Athletic Association  Division I
Big 12 Conference
Saturday 24th October 2015
Kick off 11.00
University Texas Longhorns 23 Kansas State University Cowboys 9 attendance 88,283
@ Darrell K. Royal – Texas Memorial Stadium
405 East 23rd Street,
Austin, TX 78712
$55 admission (resale) print at home ticket.
Programme free, 68 pages.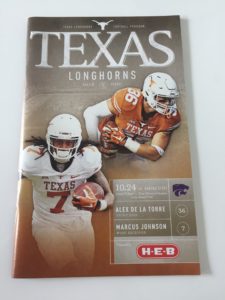 The stadium has been home to the Longhorns since 1924 and has a seating capacity of 100,119 making it the second largest stadium in Texas and the eighth largest in USA. There are plans to enclose the south end zone which will take capacity up to around the 115,000 mark.
Heavy rain had fallen all day Friday, the first rain we had encountered in our 7 weeks in Texas, and continued until around half an hour before kick off.  Sadly, a matter of minutes into the game it returned and rained steadily for the next 3 hours. Not fun when you are in a stadium that has no roof. Despite the huge attendance, obviously based on ticket sales, rather than bums on seats, the true mark was more likely around 50,000. Had we not been down in Austin for the Formula 1 US Grand Prix the next day, then this would have been given a wide berth.