Premier League 2
League Cup Group Match
Monday 27th February 2017
Kick Off 13.00 Actual 13.01
Brighton & Hove Albion U23 3 West Ham United U23 0,  attendance 150
18′ 1-0 Bjordal
42′ 2-0 Tilley (pen)
53′ 3-0 Connolly
@ American Express Elite Football Performance Centre
60, Marsh Barn Lane
Lancing
BN15 9FP
£5 Admission, Print at Home Ticket
Team Sheet, free.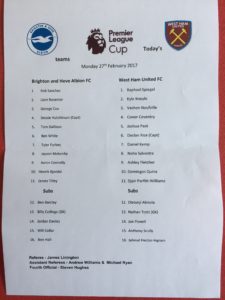 Getting tickets for this was really easy. They were available on-line through the club website, with this being the only possible way to gain admission as there is no facility to pay at the ground. Unlike so many other places, there was no booking fee to pay !
On arrival at the ground, you give in your printed ticket at the barriered security gate, then proceed into the car park where there is a steward directing you to where they want you to park. From here, there is then another fenced off area, so admission is via the reception area, where you are then taken by another steward and held in a room until about 5 minutes before kick off, when everyone is escorted en masse to whichever pitch the game is being played on.
Today, the game was on the main pitch in the complex. Four rows of blue seats are the full length of one side, with dug outs and a television gantry opposite. The roof on the stand is a waste of time. Even sat on the back row the rain was impossible to avoid due to the wind.
I don't know why clubs such as Brighton bother admitting anyone in to watch games here as they certainly don't make you feel welcome. Stewards stand along various points of the stand just trying to catch anyone who dares to try and take a photograph. One person was 'caught' and stood over whilst being forced to delete the photos he had taken. They bang on about it being 'the law' as the players are 'under age' (is 23 really under age ?) and can't be photographed, yet an hour after the match the club website has a selection of action shots from the match !
I would have thought any problem with paedophiles within the game is from within the clubs themselves, not from the spactators watching from the stands.
As for the game, far too easy for Brighton. Both sides had already qualified for the knockout stages of the cup, so this was basically to see who topped the group. West Ham would have done so had they won today.