Australia
A-League
Sunday 17th December 2017
Kick Off 18.00 Actual 18.09
Brisbane Roar 1 Melbourne Victory 2,  attendance 10,225
12' 0-1 R. Williams
19' 0-2 K. Barbarouses
56' 1-2 M. Maccarone
@ Suncorp Stadium
40 Castlemaine Street
Milton
Brisbane
QLD 4064
AUD $30 Admission
AUD $2 Programme, 28 pages.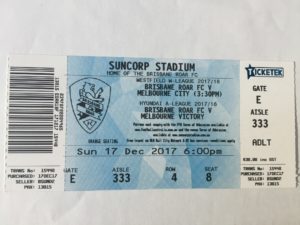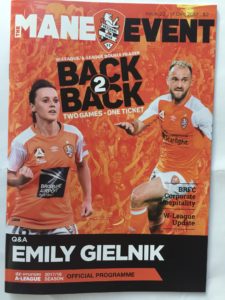 These days, it is a case of double checking all intended ground visits, as stadiums constantly change their name to suit the sponsor at the time and any reference to the original name is lost. Having been to Australia twice before, in 2001 (visited Wollongong Wolves, Marconi Stallions and Parramatta Power) when the top level was known as the National Soccer League, then again in 2006, when the A-League was now in operation ( visited Melbourne Victory, Adelaide United, Sydney, Newcastle United Jets and Perth Glory) it was quite a while since being 'down under', but at least I was safe with this one, as it was a first ever visit to the city of Brisbane.
Suncorp Stadium was opened in 1914, when it was known as Lang Park Stadium, up until 1994, when it changed to the current name. From 2009 to 2012, it reverted to Lang Park, before once again taking on the current name. The stadium was renovated between 2001 and 2003 and now has an all seated capacity of 52,500, a figure that is unlikely to be tested for a Roar home game. The much more famous team playing here though, is Brisbane Broncos, of the National Rugby League, who do get the big crowds, as do the Rugby League 'State of Origin' matches between Queensland and New South Wales. Rugby Union is also played here, hosting Queensland Reds Super Rugby as well as the National team, having also hosted numerous World Cup matches in both codes. It was also host to the Manny Pacquiao versus Jeff Horn fight for the W.B.O. welterweight Championship, which drew 51,052 fans.
Tonight, it was a case of turn up at the gate and buy a ticket. It also meant avoiding any add on fees as well. When crowds are never going to test capacity, it is always worth a gamble of buying the cheapest available ticket, then moving to an area of the stadium that is sparsely populated. This is much easier when you can walk freely around the concourse, plus it helps when the stewards are not even checking tickets as you enter each section of seats. They seemed more bothered worrying  about the 100 or so very noisy away fans congregated in one corner of the ground.
Tonight's match programme was a double issue (along with next Thursdays home game versus Perth Glory) with each match being covered in their own half, printed opposite way up to each other, but the game tonight isn't even mentioned on the cover. The match ticket was also a 'double header', as it gained you admittance to the women's match that preceded the men's match. Like us, the majority didn't bother with the first game.
A quick look at the league table showed it was 6th versus 7th (out of 10) and a look at the line ups offered no 'names' of note, (checking later, it turns out that Maccarone, who scored for Brisbane, is the player who had four seasons at Middlesbrough in the mid 2,000's) although I had heard of both Managers, who were former Australian Internationals, John Aloisi ( ex Coventry City and Portsmouth) for Brisbane and Kevin Muscat ( ex Millwall, Rangers, Wolves, Crystal Palace) for the visitors.
Before the match, it showed on the big screens that the Video Assistance  Referee (V.A.R.) would be in use tonight, which was certainly a first for me at a live match. Victory were superb in the first half and could easily have gone into the break leading by five or six goals. Roar never even managed a shot until the last minute of the half. Even when they pulled a goal back, they never looked likely to level the match. Melbourne added a third goal, or at least thought they did, with a cracking finish in the last minute, but the V.A.R. chalked it off following a hand ball during the build up. The decision was made very quickly, and was certainly correct, which was clear for all to see on the replay, although the 'scorer' still managed to get himself a yellow card when continuing to argue about it. It was a little while before the scoreboard changed back from 1-3 to 1-2, though.
This result now sees Brisbane drop to second bottom in the league table, with Melbourne now up to sixth, some 15 points behind leaders Sydney after eleven rounds of matches.