Australia
National Basketball League
Saturday 30th December 2017
Tip Off 17.30
Sydney Kings 79 Melbourne United 103,  attendance 6,014
Kings Starters :
T. Blanchfield 10 pts, 7 reb, 1 ast, 2 blk
B. Newley 4 pts, 3 reb, 2 ast, 1 blk
J. Randle 26 pts, 2 reb, 5 ast
P. Ellis 13 pts, 8 reb, 4 ast
A. Singh 0 pts, 1 reb
Bench :
T. Garlepp 2 pts, J. Cadee 8 pts, D. Pineau 8 pts, I. Humphries 0 pts, A. Thoseby 2 pts, S. Daly 0 pts, J. Tyler 6 pts
United Starters :
C. Goulding 18 pts, 2 reb, 5 ast, 1 stl, 1 blk
T. Wesley 12 pts, 8 reb, 4 ast, 1 blk
C. Ware 26 pts, 3 reb, 5 ast
J. Boone 18 pts, 7 reb, 2 ast, 2 stl, 1 blk
C. Felix 7 pts, 7 reb, 2 ast, 1 stl
Bench :
D. Barlow 8 pts, K. Adnam 2 pts, T. Smith-Milner 3 pts, C. Moller 9 pts, P. Hooley 0 pts
@ Qudos Bank Arena
Olympic Boulevard
Sydney Olympic Park
Sydney
NSW 2127
AUD $52 Admission + AUD $6.70 Fees, Will Call.
No Programme.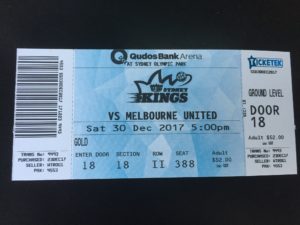 Qudos Bank Arena, which was known as Sydney Super Dome when it was completed in 1999, is a multi purpose arena that was built for use in the 2000 Summer Olympics. Capacity here is 21,032, of which around 18,200 is seated. For Kings home games, only the bottom tier and a small section of the third tier is used for spectators.
The arena is easily reached by public transport from the city centre. Trains from Sydney Central Station to Lidcombe on line T1, with a change to line T7 for one stop to Olympic Park, take around 35 minutes at a cost of just AUD $6.02 return using an Opal Card, which is the equivalent to the Oyster Card in London.
As for the match, it was far too easy for Melbourne after halftime. Sydney actually led 46-44 at the break, having been up by 5 points at one stage. However, Melbourne blitzed them with a 15-0 run in the opening stages of the third period and never looked back, holding a 26 point lead at one point towards the end.