Canada
American Hockey League
Saturday 21st October 2017
Puck Drop 16.00
Toronto Marlies 4 Charlotte Checkers 0,  attendance 5,628
1-0 Mason Marchment
2-0 Mason Marchment
3-0 Dmytro Timashov
4-0 Colin Greening
@ Ricoh Coliseum
45 Manitoba Drive
Toronto
ON M6K 3C3
CAD $37 Admission
No Programme.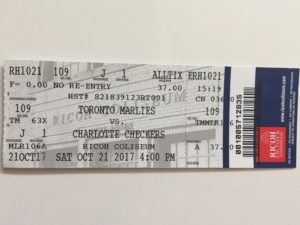 Ricoh Coliseum was opened in December 1921, undergoing renovation in 1963, 1997 and 2003. Capacity here, for ice hockey, is 7,851. It is situated at Exhibition Place, which is reached by Tram Number 509 from Union Station, for CAD $3 each way. This is the same stop as if going to B.M.O. Field, the home of Toronto F.C. some 300-400 yards to the west.
Toronto Marlies are the top affiliate of N.H.L. team Toronto Maple Leafs. They are named after the former Toronto Marlboros junior hockey team, known as the 'Marlies'. Due to the name being the same as a well known cigarette brand, they use the abbreviated form as the official team nickname.
As with most American sports, the game never started on time, but just eight minutes late for this one. It was very dull until the first goal, which didn't come until the second period, but was much more entertaining for the remainder of the game. The announced attendance also looked about right.