Australia
T20 Big Bash League Cricket
Wednesday 20th December 2017
First Ball 18.40
Brisbane Heat won by 15 runs,  attendance 27,455
Brisbane Heat 206-7 Batted First
Jimmy Pierson c: Hastings b: Beer 1
Brendon McCullum  c: Maxwell b: Stoinis 40
Sam Heazlett c: Hastings b: Beer 14
Joe Burns c: Dunk b: Stoinis 50
Alex Ross c: Pietersen b: Boland 51
Ben Cutting : run out 35
Mark Steketee c: Gulbis b: Stoinis 0
Shadab Khan : not out 0
Josh Lalor : not out 6
Melbourne Stars 191-6
Ben Dunk  c:Swebson b: Lalor 0
Luke Wright b: Khan 19
Kevin Pietersen c: McCullum b: Doggett 10
Glenn Maxwell c: Doggett b: Khan 8
Marcus Stoinis : run out 99
James Faulkner : not out 47
Evan Gulbis c: Doggett b: Steketee 0
John Hastings : not out 0
@ The Gabba
Vulture Street
Woolloongabba
Brisbane
QLD 4102
AUD $42 Admission + AUD $5.50 Fees.
No Programme.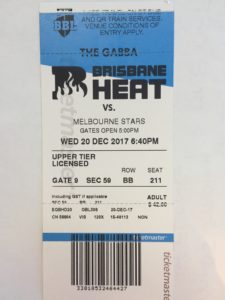 This game hadn't been on the agenda. It was only when watching the sports news on television that I saw that the season had opened with the Sydney derby the night before. Reading the newspaper at breakfast, I noticed that Brisbane were due to open their season tonight, when they were entertaining Melbourne, including former England batsman Kevin Pietersen. Apparently, Pietersen was public enemy number one in Brisbane, following derogatory comments about the city on social media. The report also stated that there were 5,000 tickets remaining, so we called by the ground and picked up a couple. We could have waited, as there were plenty of empty seats in the end and it would have also saved on the booking fee, although the match ticket allowed free travel on public transport to and from the match. As there is no rail link nearby, this meant travelling by bus, which was fine going, but total chaos afterwards, mainly due to poor organisation.
The Gabba derives it's name from the suburb of Woolloongabba, in which it is located. It is the ground that is used for the opening match of The Ashes test series versus England and has been home to Queensland Cricket since 1896. It also hosts the Brisbane Lions Australian Rules Football team. Capacity for cricket is 42,000 and it must be one of the few, if not only, stadiums of the world that has a swimming pool as part of the viewing area.
As I am not a great fan of cricket, this version of the game is ideal, although it seemed odd that as well as there being no programme, they didn't even bother putting the Melbourne team on the screens. It is far better to see the entire match in three and a half hours, than to go through the tedious bore of five days 'action' and still have no winner !
As for Mr Pietersen……….he was roundly booed every time he was shown on the big screens and as he trudged off, having been caught out for a pathetic 10 runs, the stadium announcer said "never mind Mr Pietersen, get back to twitter" !!!