Durham Challenge Cup
Semi Final
Tuesday 28th February 2017
Kick Off 19.30 Actual 19.32
Consett 1 South Shields 3,  attendance 785
9′ 0-1
30′ 0-2
48′ 0-3
55′ 1-3
@ Belle View Stadium
Delves Lane
DH8 7BF
£6 Admission
£1.50 Programme, 44 pages.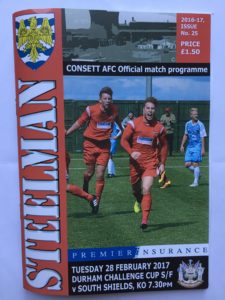 A trip to the North East would probably not be the best idea in February, but unless there was snow, the 3G pitch at the relatively new home of Consett AFC, which they moved into in November 2013, would mean the game would more or less be guaranteed to take place.
Compared to their old ground, ( visited 22.1.2000, 0-1 v Alfreton Town, attendance 276, F.A. Vase 4th Round) with the magnificent crumbling, run down, atmospheric charm, (from a Groundhoppers point of view) this is an awful place to watch football, especially with a crowd of this size inside. Earlier in the afternoon, the club had tweeted that they had negotiated extra car parking space with the business next door to the ground and, what we thought was ridiculous at the time, that the turnstiles would be open at 5pm to help alleviate some of the queues nearer to kick off time !
I would say at least 500 of the crowd were with the visitors. Very impressive for any non-league club, let alone one at Step 5. The league match between these two, currently 7th v 2nd in Northern League Division 1, drew the highest home attendance for Consett this season, of 671 and they were obviously expecting another good turn out as they had tweeted about it earlier in the day. What a pity they let themselves down with totally inadequate catering facilities. We joined the queue at the tea bar four minutes before halftime. As the second half kicked off, we abandoned the line, as they had only served about a dozen people in this time ! As everyone knows, profit margins are high in food/drink sales, so for the club to willingly give away money in failing to get people served, shows that this must be a club with no financial worries. Surely a crowd of this size required at least one added mobile caterer ?
As for the game, Consett started well and the visitors actually opened the scoring against the run of play. From here on, it was a stroll for South Shields. A red card for Consett, in injury time, simply rounded off a disappointing result for them.
This was South Shields  22nd consecutive win, in what could be a fantastic season for them. They are second in the league ( 8pts behind North Shields, but with 2 games in hand) and favourites to win the F.A. Vase, having reached the semi final. This win sees them face Billingham Synthonia in the Durham Challenge Cup Final, to be played at Hartlepool United, in May.
So, with Northern League Division 1 now complete, it leaves just Stockton Town to visit for the full set in this league. Step 5 is also a bit nearer completion, with just four clubs grounds not visited yet…..Fisher, Leicester Nirvana, Melksham Town and Royal Wootton Bassett Town. These clubs have moved into new grounds during my time living abroad, two of them during the last couple of months.