Belgium
National League
Division 1 Amateurs
Friday 24th November 2017
Kick Off 20.00 Actual 20.03
F.C. Verbroedering Dender Eendracht Hekelgem 0 K.F.C. Dessel Sport 1,  attendance 425
13' 0-1
@ Van Roystadion
Stadionlaan 5
9470 Denderleeuw
€12 Admission
Team Sheet, free.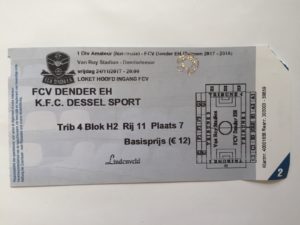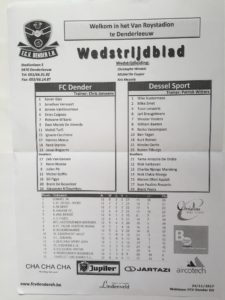 F.C.V. Dender E.H. were a merger of K.F.C. Denderleeuw Eendracht Hekelgem and Verbroedering Denderhoutem at the end of the 2004/05 season. The Van Roystadion was opened in 1997, known in those days as Florent Beeckman Stadion, which is still the name above the gates at the entrance to the ground. It was renovated in 2007 and has a current capacity of 6,429, with the open terrace behind the goal at the entrance end of the ground being unused.
Tonight's match was 13th v 2nd in the league table and was a match more deserving of the single goal that won it for the visitors. It started raining an hour and a half before kick off, then poured down for the entire match, which saw both teams emerge for the second half in clean kit, with Dender actually changing to their away colours.
U.K. Passport control did their best to make everyone miss their departure slots on the return leg, having taken them 31 minutes to process the dozen cars in front of us, but we got on the 00.45 with two minutes to spare, although it left 5 minutes late anyway.