Canada
Ontario Collegiate Athletic Association
Wednesday 18th October 2017
Kick Off 16.30 Actual 16.44
Humber College Hawks 1 Sheridan College Bruins 0,  attendance 91
54' 1-0
@ Ontario Soccer Centre 
7601 Martin Grove Road
Vaughan
ON L4L 9E4
No Admission
Programme, free, 4 pages.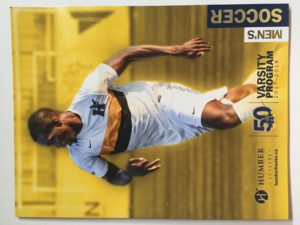 Humber Hawks are the Number 1 ranked College team in Canada, which is no great surprise considering they won the O.C.A.A. Championship five times between 1995 and 2001 and have won it seven times in the last eight years, including this year. They were also the overall Canadian Collegiate Athletic Association champions in 1995, 2001, 2012, 2013, 2015 and 2016 and head to this years play offs as favourites. Apparently, it is 1,090 days since they lost a game in a O.C.A.A. match, having gone 41 games unbeaten (40 wins, 1 draw) before today and they have won all 16 games they have played this season.
Despite this being 1st v 3rd, it was dreadful, and looked like a definite 0-0, but Humber finally put another win on the board with a shot that went in off the inside of the post. With both teams guaranteed their play off places, it was a chance for them to rest any players that would miss the first round of games if they picked up another yellow card today. There certainly won't be any problem of them all going straight back into the team if this performance is anything to go by !
Ontario Soccer Centre is in Vaughan, which is about 30km North West of Downtown Toronto. It is the ground that has been used by Toronto F.C. II from 2015-2017 in the U.S.L., but they will play elsewhere from next season, as there are not enough seats to meet the minimum requirement to play at Level 3 Soccer in U.S.A. under the new regulations. The journey there and back was possible on public transport, which meant a subway train and two busses going, with a single bus and the subway back. It was a very cheap CAD $3 each way, but ridiculously slow, taking 2 hours 8 minutes there (rush hour and road works) and 1 hour 29 minutes back, not counting the 12-13 minute walk from the bus stop. Public transport is far from convenient and is certainly not a patch on driving right to the venue, plus you have to travel with the numerous low life that you can thankfully avoid when using your own car.