International Friendly
Tuesday 8th September 2015
Kick off 21.00 – Actual 21.38
Mexico 2 Argentina 2,  attendance 82,559
19′ 1-0 J. Hernandez (pen)
70′ 2-0 H. Herrera
85′ 2-1 S. Aguero
89′ 2-2 L.Messi
@ AT&T Stadium
1  AT&T Way,
Arlington, TX 76011
Admission $55 (+ $13.74 added fees)
No Programme.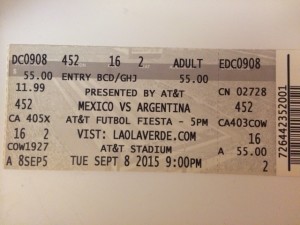 The AT&T Stadium, formerly known as the Cowboys Stadium, was opened in May 2009 and is home to the Dallas Cowboys of the National Football League. The stadium, which has a retractable roof, has a seated capacity of 85,000 which is expandable to 105,000 with standing room and is set out in 4 tiers. The view from the top tier is certainly 'birds eye' and it is the first time I have been at a match with binoculars for rent !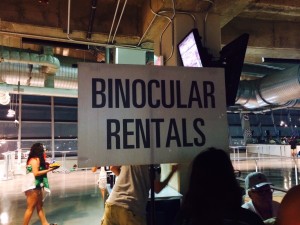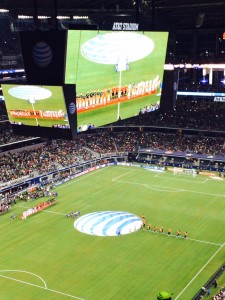 The pitch is artificial turf for Cowboys use, but a grass pitch was laid for tonight's match. The undoubted star attraction was Lionel Messi, judging by the huge roar that went up every time he was pictured on the giant overhead screens that hang from the roof structure, even though around 60,000 of the crowd were Mexican supporters.
Food and drink inside the stadium was plentiful in choice, but very expensive. Top of the price list was a mind blowing burger at $20 and matching its huge price was its size……probably the same as half a dozen Big Macs !
Despite being advertised as a 9pm kick off, it soon became apparent this was a time plucked from the air and after much faffing about, including 3 National Anthems, we finally got underway some 38 minutes late. No announcement was made for the delay and incredibly, despite there being no match programme, the team line ups were not even displayed on the giant screens but were read out hurriedly as the teams lined up to kick off. Thankfully, with the temperature still in the mid 30's, even at this time of night, the game was played under a closed roof.
A fantastic atmosphere throughout, which is to be expected from 'proper' football people, who, like me, do not recognise the greatest game in the world as 'soccer'.
Mexico led 2-0, the first goal a penalty from ex-Manchester United and Real Madrid striker Javier Hernandez, before a late show inspired by late second half substitute Sergio Aguero, on for Carlos Tevez, which saw him tap one in on 85 minutes before his through ball was chested down and volleyed in by Lionel Messi a minute from time.
Despite the large crowd, getting away afterwards was very smooth. Parked in an official car park about 10 minutes walk from the stadium. Not cheap at $30, but America doesn't really do public transport, so you just have to accept it.
As I drove away from the stadium and glanced back, it was hard to believe it could look even better lit up than it did when first coming into view some 4 hours earlier. Certainly worth a re-visit to take in a Cowboys game sometime in the future.