Belgium
Brabant Provincial 1 V.F.V.
Sunday 29th October 2017
Kick Off 15.00 Actual 14.59
K.F.C. Meise 2 V.C. Houtem-Oplinter 2,  attendance 106
19' 1-0
39' 2-0
83' 2-1
84' 2-2
@ Sportpark De Nekker
Sint-Annastraat 29
1860 Meise
€8 Admission
Team Sheet, free.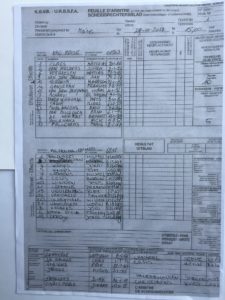 Meise are newly promoted into Provincial 1. The visitors are a merged club, last season being V.V. Houtem (Prov 1) and K. Arsenal Oplinter (Prov 2).
They are both struggling this season, today being bottom of the league table v third bottom. Meise have only managed 2 points from their first six matches, but they blew a great chance of getting their first win of the season today and in the end were lucky to hold onto a point.
Eurotunnel were once again struggling to cope on a busy weekend, due to it being the end of the schools half term. Our booked 08.20 shuttle was cancelled and we were placed on the 08.31, which failed to leave until 08.44. Still problems on the way back, as our booked 19.36 departure didn't depart until 19.50.