Belgium
National League
Division 2 Amateurs V.F.V. A
Sunday 10th December 2017
Kick Off 15.00 Actual 15.03
K.S.K. Ronse 1 K.V.K. Westhoek 1,  attendance 143
44' 1-0
57' 1-1
@ Orphale Cruckestadion 
Oude Leuzesesteenweg 183A
9600 Ronse
€10 Admission
Team Sheet, free.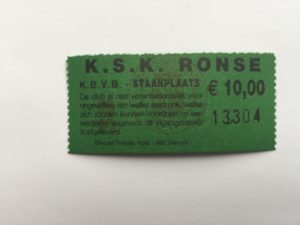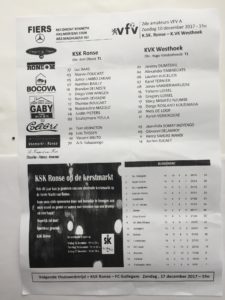 After the trip to Belgium last Sunday, where the overnight snow meant it was touch and go as to whether our chosen matches went ahead or not, I had decided to call it a day for trips over here until the new year. However, I was then offered this trip, where I wouldn't have to drive, so thought, why not ?
I was the only one of us who had visited J.V. De Pinte, in Oost Vlaanderen Provincial 1, which was where the driver was heading as first choice match. No problem, as I could be dropped at a Provincial 3 match at V.C. Zevergem Sportief, which was just a couple of miles away. On arriving into Calais, to white fields and icy roads, it meant that today might not go completely to plan.
There had already been a couple of provinces that had called off this weekends fixtures en masse, then whilst en route to Gent, we lost firstly, West, then crucially, Oost Vlaanderen fixtures as well. By the time we had lunch, every non league match in the country was now off. This now meant if we were to see a match today, it would have to be in the Belgian League.Unfortunately, this meant there would be no new ground visit for the driver, or one of the passengers, but there was a chance for the other two of us, although, for me, it was K.S.K. Ronse, or bust. The Belgian F.A. were still showing this match as 'not being off', so as it was hardly off route back to The Tunnel, it was decided we would head off here and take our chances…………..
We arrived around 40 minutes before kick off and spirits were lifted when we could see people in the clubhouse and main stand, then thankfully, both teams on the pitch, warming up. Apparently, at one o'clock, there was an inch of snow covering the pitch, but, with it now raining, this had virtually gone.
This was really entertaining and had plenty of goal mouth action, aided by a very strong wind that must have been a nightmare for the goalkeepers. Ronse opened the scoring with a 25 yarder that the 'keeper should have saved, with the equaliser being somewhat controversial, as the Linesman flagged for offside, but the Referee waved play on and the cross was converted from close range.
We had altered our return crossing by half an hour on Eurotunnel, but it wouldn't have made a lot of difference, as once again it was a shambles when we got back there. We actually left at 19.53, which wasn't as bad as first feared, but we later found out that delays had increased to two and a half hours for those behind us. As there is no competition, apart from the very much slower alternative of the ferry, then the service provided will continue to be run to an appalling standard. Mind you, they did have toilets on the train that were in working order, which is seldom the case these days !
Having looked at the results from yesterday, our match was one of just six that survived the weather, barring the top division match at Club Brugge. There were two later scheduled top level matches that took place, at Anderlecht and Sint-Truiden.