United Counties League
Knock Out Cup Quarter Final
Tuesday 28th November 2017
Kick Off 19.45 Actual 19.46
Leicester Nirvana 5 Blackstones 2,  attendance 32
5' 1-0
18' 2-0
23' 3-0
43' 4-0
45' 4-1
51' 5-1
65' 5-2
@ Hamilton Park
Sandhills Avenue
Leicester
LE5 1LU
£5 Admission
£1 Programme, 24 pages.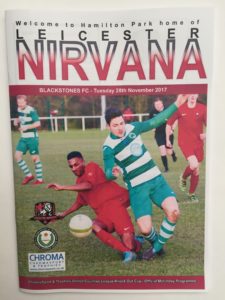 The result here was pretty much as expected. Nirvana are second in the Premier Division, whilst Blackstones play in the division below. Nirvana attacked at every opportunity and could easily have scored ten goals in the first half alone. When Blackstones scored to pull it back to 5-2, they had a couple of very good chances, which, had either of them gone in, it could have been a totally different story.
Hamilton Park only hosted it's first match in late 2016 and tonight's visit saw me complete the top division of the United Counties League. It was also the last ground i hadn't seen a match on at Step 5 and the only ground I now haven't visited from Premier League to Step 6, is that of Slough Town, at Step 3.