Australia
A-League
Saturday 6th January 2018
Kick Off 18.00 Actual 18.07
Melbourne Victory 1 Central Coast Mariners 1,  attendance 8,370
49' 1-0 B. Berisha
71' 1-1 B. Powell
@ GMHBA Stadium
370 Moorabool Street
South Geelong
VIC 3220
AUD $20 Admission + AUD $2.45 fees, Will Call
No Programme.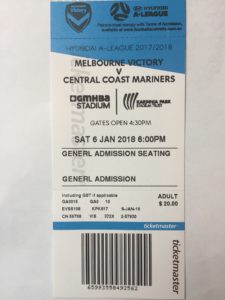 Up until Thursday, this match was scheduled to kick off at 17.35, but with temperatures at kick off time forecast to be 42 degrees, the kick off was rescheduled to 18.00, as it was due to drop by around 10 degrees by 19.00.
As it turned out, the forecast was bang on. It was 42 degrees as we boarded the train at Southern Cross Station, in the west of Melbourne, for the 50 mile trip south west down the coast to Geelong. There were minor delays, plus a slower than normal journey because of the heat, but sure enough, on arrival at South Geelong Station (11 stops, journey time around 1hr 20 mins, AUD $18.40 return) just after 17.15, it was now a much more bareable 32 degrees.
GMHBA Stadium (the new sponsor name since January 1st) was opened in 1941, when it was known as Kardinia Park. It is the home ground of Geelong Cats Australian Rules Football Club, having an all seated capacity of 34,000. There are plans to redevelop the current uncovered end of the stadium, which will take capacity to 40,000.
Victory have a current deal to play one match per season here (other home matches are at AAMI Park or Etihad Stadium, both in Melbourne) with this being the fourth game of the five. The first match attracted over 21,000, with the other two getting 14,000, so tonight's game was by far the lowest attendance so far, probably due to a combination of them having a poor season, by their standards, the hot weather, and the fact that travelling 50 miles for a 'home' game is far from ideal.
Victory have been on a good run recently, having won their last 3 matches, whilst Mariners haven't won any of their previous four. The hosts probably did just about enough to win this, but failed to take a number of good chances. This result leaves them in fifth place in the league table, with the visitors in eighth.
The inconvenience of using public transport was in evidence after the match. The game finished at 19.58, but the first train back to Melbourne was not until 20.46, which meant a fair bit of hanging around, especially as the walk from the stadium is little more than five minutes. Why the kick off time was not scheduled better for this, which would have been an even longer wait if the game had kicked off at the original time of 17.35, says it all about what clubs think of their fans, although there were only about 250 -300 waiting  on the platform. Inevitably, the train then left five minutes late, which is probably good by U.K. standards !