National Basketball Association
Western Conference
Play Offs, First Round
Sunday 24th April 2016
Tip off 12.00
Memphis Grizzlies 95 San Antonio Spurs 116,  attendance 18,119
Grizzlies Starters ;
Matt Barnes, 15 pts, 8 reb, 4 ast, 1 stl, 1 blk
Jordan Farmar, 6 pts, 1 reb, 5 ast
Vince Carter, 14 pts, 3 reb, 2 ast
Zach Randolph, 15 pts, 7 reb
Tony Allen, 6 pts, 1 reb, 2 stl
Playing Reserves ;
Lance Stephenson, Chris Anderson, JaMychal Green, Xavier Munford
Spurs Starters ;
Kawhi Leonard, 21 pts, 4 reb, 4 ast, 1 stl, 2 blk
LaMarcus Aldridge, 15 pts, 10 reb, 1 stl
Tony Parker, 16 pts, 2 ast
Tim Duncan, 7 pts, 2 reb, 2 ast, 3 blk
Danny Green, 2 pts, 2 reb, 1 stl
Playing Reserves ;
Boris Diaw, Kyle Anderson, David West, Patrick Mills, Jonathon Simmons, Manu Ginobili, Andre Miller, Boban Marjanovic
@ FedExForum
191,Beale Street
Memphis TN, 38103
$40 admission, plus $17.57 fees (resale ticket) print at home.
Programme free, 28 pages.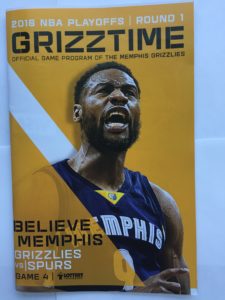 I couldn't believe my luck when this was scheduled for a noon start. Tickets were plentiful, although pricey, on the resale websites, probably due to the second seed Spurs being 3-0 up in the series and no surprise that this gave them a 4-0 whitewash over the number 7 seed. Glad I got to see Tim Duncan play for Spurs as it can't be too much longer before he calls time on a very successful career. There was a bit of a scare midway through the second quarter when a power surge in Downtown Memphis caused all the lights to go off in the arena. Thankfully we were sorted and underway again 20 minutes later. Phew !
FedExForum is located right in downtown Memphis and as well as the Grizzlies, it is also home to University Memphis Tigers in N.C.A.A. Division I. It opened in September 2004, at a cost of $250 million and capacity is 18,119. Despite this also being the official attendance, it was far from full, perhaps as many as 2,000 empty seats dotted around.
Parking was plentiful, although again not free. The local clientele certainly give the area a very poor first impression and I was certainly thankful this game would be finished in daylight !