Minor League Baseball
Triple-A Class
Pacific Coast League
Saturday 23rd April 2016
First pitch 18.35
Memphis Redbirds 0 RoundRock Express 3,  attendance 10,171
@ AutoZone Park
200, Union Avenue
Memphis, TN 38103
$23 admission
Programme free, 68 pages, plus free 5 page game information sheet.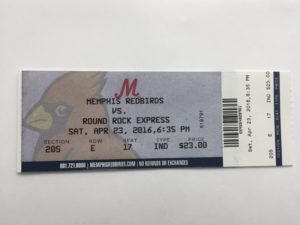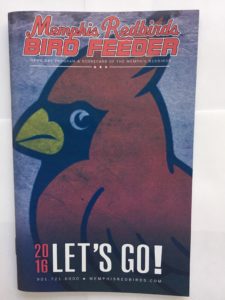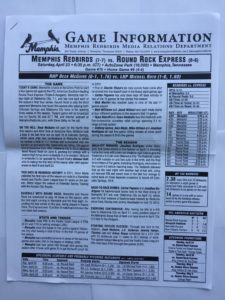 I had called in here on my way through this morning and managed to purchase one of the last few $23 dollar tickets. Good jod I did, as only $48 dollar tickets were on sale when I arrived back about 20 minutes before the start, having got a decent parking space for $10 just down the road on a small industrial site. With the stadium being right in the city centre it means there is no way to park within sensible distance without paying, or indeed still having your car there when you return, and this was as cheap as I was going to get.
The Redbirds are an affiliate of MLB team St. Louis Cardinals. Round Rock are teamed up with another MLB team, the Texas Rangers. The game was of a really good standard and perhaps helped by having a decent seat not too far from the action.
AutoZone Park was opened in April 2000. The largest crowd here was 31st August 2008, when 18,620 witnessed the visit of Oklahoma Red Hawks. Nowadays it seats 10,000 and has grassed areas in use as well.
After the game it was a few miles south for a bite to eat and on to the hotel.