Friendly Match
Wednesday 25th May 2016
Kick off 19.00 Actual 19.02
New York Cosmos 2 S.D. Eibar 2,  attendance 4,000
3′ 0-1
10′ 0-2
12′ 1-2
53′ 2-2
@ Sam Boyd Stadium
7000, East Russell Road
Las Vegas, NV 89122
$28 admission + $8.50  fees, Will Call ticket
No programme.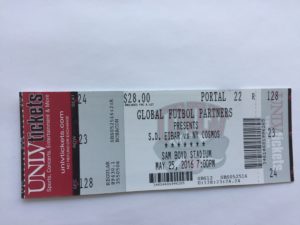 This was done as a day return, although strictly speaking the return flight was after midnight, but you get the gist. Getting from the airport was easy, taking the local bus service for $3, which involved a change, before getting off at the MGM Grand Hotel, at the southern end of the strip. The trip to the stadium was with an Uber ride, as was the return directly to the airport. It worked out much cheaper than a day's car hire and the whole day's transport was only around $25, where parking alone would have been $20 at the stadium.
I am not too sure how a match between 2 clubs that barely draw crowds of 10,000 between them for home games, was ever going to pull in many of the Nevada public. Had I known that the crowd was going to be so poor, then I could have purchased a ticket on the night, presumably saving the booking fee. I am glad I went for the cheapest ticket option as there was certainly no problem sitting wherever you liked.
The match was certainly entertaining, both teams playing with an open and attacking style. The game even went to penalties, although I only found this out when reading a match report at the airport, although I wouldn't have stayed for them anyway, as they are totally meaningless, but as we know, you can't have a 'tie' over here, even in a friendly it seems. For those that are interested, it finished 7-6 to Cosmos.
Sam Boyd Stadium, named after a major figure in the hotel and casino industry, is home to the U.N.L.V. Rebels American Football team and also hosts the annual N.C.A.A. Las Vegas Bowl in December. Capacity here is 35,500, which can be expanded to 40,000. The Stadium was opened in 1971 and has since undergone renovation in 1999 and 2015.
So, a long and tiring day, arriving back indoors just before 6 am the following morning.