Hellenic League
Premier Division
Wednesday 25th September 2017
Kick Off 19.45 Actual 19.48
Royal Wootton Bassett Town 0 Oxford City Nomads 5,  attendance 72
8' 0-1
44' 0-2
50' 0-3
79' 0-4
86' 0-5
@ Gerard Buxton Sports Ground
Brinkworth Road
Royal Wootton Bassett
SN4 8DS
£6 Admission
£1.50 Programme, 60 pages.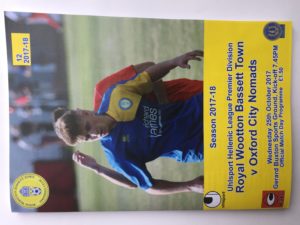 I had visited Wootton Bassett previously, before the 'Royal' was added, to take in a match at their old ground. They took a hammering that night as well, losing 0-4 versus Abingdon United, again in Hellenic League, Premier Division, on 24th September 2002. Oddly, it was just three days after I made my first visit to the ground I had been to this afternoon.
Despite being a relatively new ground, it is poorly laid out. Neither the clubhouse(which is really in the cricket club) or the toilets are within the fence surrounding the ground and the floodlights were really poor and must be some of the dimmest anywhere at Step 5. The photos don't really show how bad the lights were to the naked eye.
I very rarely look at my match programme until I get home, but it is a pretty good effort, with plenty of reading amongst the mammoth 60 pages. Only one criticism really, it needed being more up to date, as the results page was 11 days behind. It would be far better to do a programme half the size and bang up to date and therefore more relevant to the match.
The result was rather unexpected, as it was 8th v 15th at start of play. Bassett had only lost one of their last twelve matches, but were flattered by the 0-5 score. It could easily have been double figures and a red card for the hosts, on 65 minutes, just rounded off a bad night for them.
Tonights visit completes the Hellenic League, Premier Division once more.