Germany
Oberliga Rheinland-Pfalz/Saar
Saturday 11th November 2017
Kick Off 14.30 Actual 14.35
S.V. Saar 05 Saarbrucken 1 F.S.V. Jagersburg 3,  attendance 112
10' 0-1 (pen)
17' 1-1
72' 1-2
75' 1-3
@ Stadion Kieselhumes, 3G Pitch
Am Kieselhumes
66121 Saarbrucken
€7 Admission
Programme, free, 32 pages.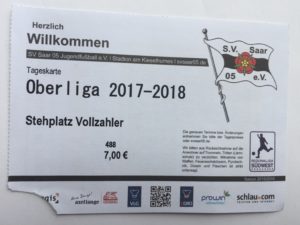 As we had booked this trip some time ahead, we were not sure what options we would have for our Saturday afternoon fix. Only one fixture came up in Belgium, but I had already been there. The National League fixtures for Luxembourg offered us nothing at all, so it was a choice between heading north into The Netherlands, or the far easier option, considering where we were based on Friday evening, of nipping across in to Germany.
I am certainly not a great fan of German football, as I find the football very boring and have enjoyed very few of the games I have attended here. Also, on too many occasions, I have arrived at the very impressive stadium, only to find that the game is being played on a feature less synthetic pitch elsewhere in the complex. Sadly, this was another one to add to the list. The main stadium has a large seated stand and a full length open terrace opposite, whilst the 3G is just a pitch with a couple of raised steps along one side and no facilities whatsoever.
The excuse for not using the main stadium was that it had rained all morning, but the pitch was certainly not soft when walking on it. It is remarkable that a country of such standing, in football terms, can just switch games to a back pitch at level 5. I can't imagine it would happen at a Football Conference match in England, although, I suppose, the game would be called off at the drop of a hat here, where at least you still get to see the match in Germany. Then again, it would be hard to imagine any club in the Conference only getting 112 spectators !
Saar are bottom of the league, whilst the visitors are eighth. It was a poor first half, but reasonable second. Saar had enough chances to win this, but Jagersburg scored with their first two decent chances of the second half, and that was game over.
From here, it was around 1 hour 20 minutes drive to our overnight stop, back in Arlon, Belgium, then another 5 miles to our evening match.