North West Counties League
Division 1
Wednesday 29th November 2017
Kick Off 19.45 Actual 19.49
Sandbach United 2 Alsager Town 2,  attendance 90
12' 0-1
39' 0-2
58' 1-2
90' + 5, 2-2
@ Sandbach Community Football Centre
Hind Heath Road
Ettiley Heath
Sandbach
CW11 3LZ
£5 Admission
£2 Programme, 20 pages.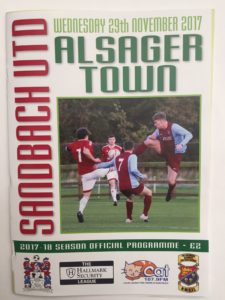 This is yet another new ground that has been built with very little thought for spectators. Yes, there are two pieces of cover behind the goal, but why the small seated stand is in a corner, where only three people bothered to sit in it, beggars belief. It is a total waste of money, but probably ticks the right boxes as far as ground grading goes. Also, one end, and one side, of the ground are out of bounds, presumably due to the lack of hard standing. The very poor programme, which doesn't even have a league table, or numbers listed next to the players names, is another negative, and is a good example of why so many people don't buy them anymore and why they will surely become a thing of the past if too many clubs continue issuing such awful publications as this.
The game itself, which was 6th v 4th in the league table, looked like being an easy win for Alsager, as they were coasting it at halftime. The first goal for Sandbach was debatable as to whether it had actually crossed the line, but the Linesman was up with play and signalled for the goal immediately, so it looked like 'game on', but the game just died and Sandbach never looked like getting a point and it was harsh on Alsager to concede the equaliser so deep into stoppage time.
At least the North West Counties League is complete again.