Belgium
National League
Division 3 Amateurs V.F.V. B
Sunday 19th November 2017
Kick Off 14.30 Actual 14.31
Sporting Kampenhout 0 Eendracht Termien 2,  attendance 198
8' 0-1
68' 0-2
@ Sportcentrum De Zeype
Zeypestraat 26A
1910 Kampenhout
€10 Admission (including token for 1 free drink)
Team Sheet, free.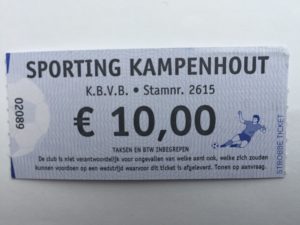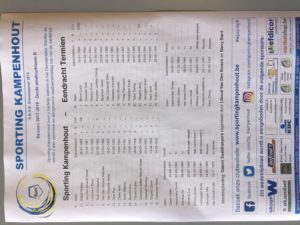 Sporting Kampenhout are a merger of S.K. Kampenhout and S.K. Kampelaar, with this being their first season under the new name. I had already visited S.K. Kampelaar, pre-merger, at their Votvinkenstraat ground, for a Belgian Cup 1st Round match, when they were in Brabant Provincial 2, seeing them lose 0-2 versus R.R.C. Waterloo, on 26th July 2014.
Today was 11th v 7th in the league table and was never really much of a contest once Termien went in front. It should have been a much bigger winning margin than the two goals, considering the balance of play, and it is quite easy to see why Kampenhout have now lost 5 consecutive league matches.
The driver today was heading for V.K. Linden, but I had been there, so went for the option of being dropped off at Kampenhout, as did the other two passengers. We were picked up around twenty five minutes after the match, so back at The Tunnel  before 19.00. Once again it was total chaos, this time the excuse being that U.K Border Control had had a total power failure, which had caused huge backlogs. We managed to get a crossing that left at 20.15, which we assume was the 19.50 running late.