Canada
National Basketball Association
Eastern Conference
Thursday 19th October 2017
Tip Off 19.30
Toronto Raptors 117 Chicago Bulls 100, attendance 19,800
Raptors Starters ;
Norman Powell : 15pts, 4 reb, 1 ast, 1 stl
Serge Ibaka : 8 pts, 4 reb, 2 blk
Jonas Valanciunas : 23pts, 15 reb, 2 ast, 2 stl
DeMar DeRozan : 11pts, 6 reb, 5 ast, 2 blk, 1 stl
Kyle Lowry : 12pts, 4 Feb, 9 ast, 1 stl
Used Subs ;
CJ Miles, OG Anunoby, Fred Van Vleet, Jakob Poeltl, Delon Wright, Pascal Siakam, Alfonzo McKinnie
Bulls Starters ;
Paul Zipser : 7pts, 5 reb, 3 ast, 1 stl
Lauri Markkanen : 17pts, 8 reb, 1 blk
Robin Lopez : 18pts, 8 reb, 2 ast, 1 stl
Justin Holiday : 15pts, 4 reb, 2 ast, 1 stl, 1 blk
Jerian Grant : 7pts, 2 reb, 7 ast, 2 stl
Used Subs :
Denzel Valentine, Cristiano Felico, Ryan Arcidiacono, David Nwaba, Quincy Pondexter, Kay Felder, Antonio Blakeney
@ Air Canada Centre
40 Bay Street
Toronto
ON M5J 2X2
CAN $123 + CAN $15.25 fees.
No Programme.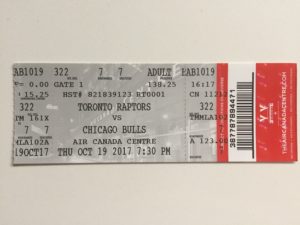 The Air Canada Centre is in the heart of Downtown Toronto, immediatly to the south of Union Station, which it is connected to via a pedestrian walkway. It was opened in February 1999 and has a capacity of 19,800 for basketball. It is also home to Toronto Maple Leafs, of the National Hockey League and Toronto Rock of the National Lacrosse League. It was announced in August, that from July 2018, it will be renamed Scotiabank Arena, following a new sponsorship deal of CAD $800 million over 20 years.
Tonight was the season opener and despite being announced as a 19,800 sell out, there were quite a few empty seats, so the actual 'attendance' in the building was probably around a thousand less than claimed. The game itself ended up pretty one sided after the Raptors outscored the Bulls 33-14 in the second quarter to lead by 58- 37 at the interval. Despite the Bulls edging the second half by 4 points, the damage was done. CJ Miles scored an impressive 22 points from the bench on his debut for the Raptors
As the Raptors are the only non-American team in the N.B.A. it was the first time I have been to a top level game where the fans are there to watch the match, rather than being there just to eat and drink throughout, getting in and out of their seats every ten minutes, paying little attention to the actual action on the court. The same thing happened when I visited Canada to watch Montreal Impact play a Major League Soccer match at the Olympic Stadium…..it must be a Canadian thing and the match day experience is so much better for it !