Friendly Match
Day 2 (of 3)
Wednesday 20th September 2017
10.30 Start
Yorkshire 2nd XI v Durham 2nd XI
@ Scarborough Cricket Club
North Marine Road
Scarborough
YO12 7TJ
Free Admission
£1 Official Scorecard, 4 pages.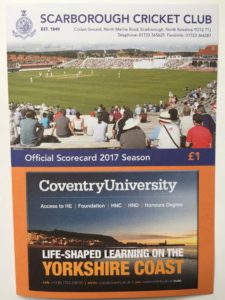 I am not really a cricket fan, but with a full day to kill before an evening football match, this fitted the bill perfectly. Even better when it was free !
I had only ever been to one cricket match before…….New South Wales 'SpeedBlitz Blues' v England, played at Sydney Cricket Ground, Monday 13th November 2006 in a warm up to The Ashes. That was also Day 2 and played in a place beginning with the letter S, so at least I was continuing a theme….
Scarborough Cricket Ground has been hosting games since 1863 and has a current capacity of 11,500. The two 'ends' here are known as the Peasholm Park End and The Trafalgar Square End.  Nowadays, it still hosts Yorkshire home games, when they are not at Headingly, and has previously hosted England One Day Internationals versus New Zealand and The West Indies, albeit back in the 1970's. The record attendance here is 22,946 when Yorkshire hosted Derbyshire in 1947.
After a little over 4 hours here, it was time for a late lunch, before heading off for my evening football fix in County Durham. Yorkshire had batted all day and were just over 50 runs short of Durhams total as I headed for the exit.