National Premier Soccer League
South Central Conference
Wednesday 11th May 2016
Kick off 19.00, 19.30 or 20.00  No one seemed to know. Actual 20.05
Dallas City F.C. 2 Liverpool Warriors 1,  attendance 200
18′ 1-0
42′ 2-0
90′ + 6, 2-1
@ Roffino Stadium
Bishop Lynch High School
9750, Ferguson Road
Dallas, TX 75228
$10 admission
No programme.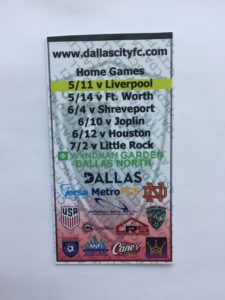 First impression here is that the club are a total shambles and little wonder the crowd was absolutely pathetic for a local derby. Apart from playing the match on the same evening as F.C. Dallas, although their crowds are also a complete joke, there was total confusion about what time the match was actually kicking off. The NPSL website said 19.00, Dallas City were saying 19.30 and the visitors had tweeted it was 20.00. In the end, none of them were right, although at least the visitors were nearest with their guess. To make matters worse, thunder and lightening was forecast  around 21.00, so to kick off late was absolutely ridiculous. We ended up missing the storm by a matter of minutes as it turned out.
The game was difficult to follow as there are American Football markings on the pitch and the goal areas don't even have proper football markings at all in places, with many of the lines not painted on. I did ask the Referee at halftime how the pitch was allowed to stage matches at this level, as none of the officials would be able to give decisions 100 % certain that offences were in or out of the 18 yard boxes. Still, as its U.S.A we're talking about, then I doubt anyone cares, although most probably don't know what the markings are anyway.
Liverpool did themselves no favours by having a player red carded just before halftime and also had a penalty saved as we reached 90 minutes.