Combined Counties League
Premier Division
Tuesday 31st October 2017
Kick Off 19.45 Actual 19.46
C.B. Hounslow United 0 Camberley Town 1,  attendance 72
57' 0-1
@ Green Lane
Hounslow
TW4 6DH
£6 Admission
£1 Programme, 40 pages (double issue with game on Saturday 4th November).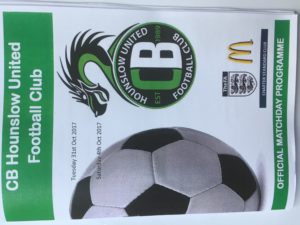 The 'C.B.' stands for Cater Bank, which was the company owned by the father of the current Chairman. According to the match programme, it has taken 17 years of fund raising and negotiation to enable the club to finally get a ground of their own, after many years of ground shares. The new ground is ok, as far as new builds go, and the pitch is absolutely superb and hard to tell that it is real grass, rather than artificial, due to the immaculate appearance. Sadly, once again, the social side of the layout is awful. Everything from toilets/clubhouse/tea bar are outside the ground, which must greatly affect the takings, especially for the tea bar, as it is on the far side of the building and has the slowest service imaginable.
As for the match, it was really poor and looked like a 0-0 banker. Hounslow missed a stoppage time penalty, that was well saved, but they didn't really deserve a point had it gone in. The boredom of the match meant plenty of time to view the endless stream of airplanes coming low over the ground as they make their approach into nearby London Heathrow Airport, with the gap at roughly 90 seconds between planes for the entirety of the game and something that would be far better seen at a non floodlit match from a plane spotters view.
This once again completes visits to all the Combined Counties League grounds, although technically I do still need Walton & Hersham at their new ground, but as it is also home to Walton Casuals, who play at a higher level, then I would rather save my first visit for one of their home games.