National Collegiate Athletic Association Division I
Southwestern Athletic Conference
State Fair Classic
Saturday 26th September 2015
Kick off 16.00
Prairie View A&M University Panthers 54 Grambling State University Tigers 70, attendance 51,328
@ The Cotton Bowl Stadium
3750 Cotton Bowl Plaza,
Dallas, TX 75210
$28 admission (including entrance to Texas State Fair)
Programme free, 24 pages.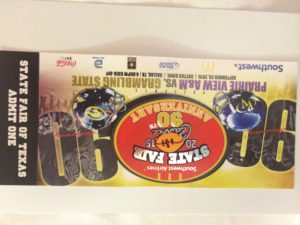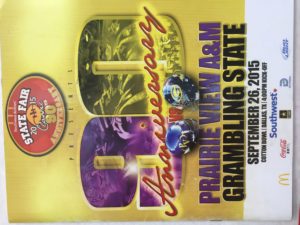 The State Fair Classic is held annually at the neutral venue 92,100 capacity Cotton Bowl, a stadium that is seldom used as no team is now based here.
The stadium was opened in 1930, as Fair Park Stadium, and has been expanded four times, the latest being in 2008, when the seating was increased from 68,252 by completing the encircling of the upper tier.
It was home to Dallas Cowboys from 1960 to 1971 in the NFL and has also hosted soccer in both the NASL and MLS, as well as games in the CONCACAF Gold Cup in 1993 and the FIFA World Cup in 1994.