National Collegiate Athletic Association
Football Bowl Subdivision
Conference USA
Saturday 31st October 2015
19.30 kick off
University North Texas Mean Green  30 University Texas San Antonio Roadrunners  23   attendance 10,292
@ Apogee Stadium
1251, South Bonnie Brae Street
Denton, TX 76207
$12 admission
Programme free, 56 pages.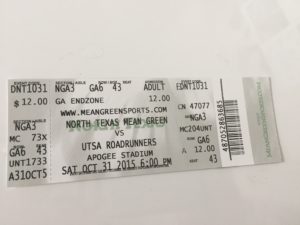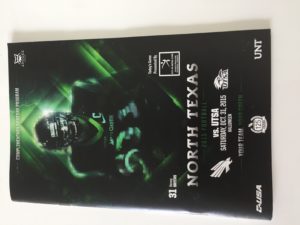 Apogee Stadium was opened on September 10th 2011, where the record attendance of 28,075 was set versus University Houston Cougars, some way short of the 30,850 capacity. Parking is across the other side of the I-35, next to the old stadium, with access via a footbridge. It certainly makes for a better getaway after the match as there is only one set of traffic lights before hitting the freeway.
This was the first time since arriving in the States that I had to wear more than a t-shirt as a cold wind was blowing. Suppose it's not bad to get this far into the year before the cold sets in !
Halftime entertainment followed the Halloween theme, where around 100 members of the College Band performed 'Thriller' in full fancy dress costume. Better than the match !