National Basketball League
Wednesday 25th November 2015
Tip off 19.30
Los Angeles Clippers 91 Utah Jazz 102,  attendance 19,060
Clippers Starters ;
Blake Griffin, 40 Pts, 12 reb, 3 ast, 2 blk
Chris Paul, 24 Pts, 5 reb, 8 ast, 3 stl
DeAndre Jordan, 8 pts, 11 reb, 3 stl, 4 blk
J.J. Redick, 3 pts, 1 ast, 1 stl
Wesley Johnson, 0 pts, 1 reb
Playing Reserves ;
Jamal Crawford, Austin Rivers, Josh Smith, Lance Stephenson, Paul Pierce, Luc Mbah a Moute
Jazz Starters ;
Gordon Hayward, 33 pts, 7 reb, 2 ast, 3 stl
Rudy Gobert, 10 pts, 11 reb, 1 ast, 2 stl, 2 blk
Derrick Favors, 22 pts, 3 reb, 2 ast, 3 stl
Rodney Hood, 13 pts, 4 reb, 5 ast
Paul Neto, 10 pts, 1 reb, 6 ast, 3 stl
Playing Reserves ;
Alec Burks, Trevor Booker, Trey Burke, Joe Ingles, Chris Johnson, Trey Lyles, Jeff Withey
@ Staples Center
1111, South Figueroa Street
Los Angeles, CA 90015
Admission $35 + $8.50 fees.
Team sheet, free.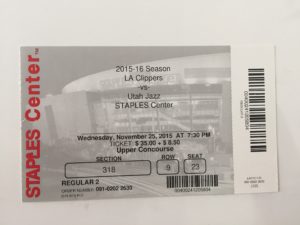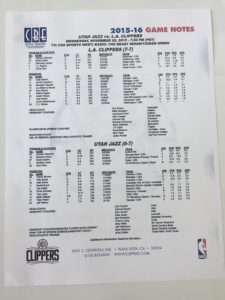 The arena was opened in October 1999 at a cost of $375 million. It is shared with fellow NBA team Los Angeles Lakers and is also home to NHL team Los Angeles Kings. Oddly, the capacity for Clippers games is 19,060, whereas it is only 18,997 when the Lakers are playing host.
It is the only arena in the NBA shared by two teams from the same league and one of only two North American professional sports venues hosting two teams from the same league, the other being MetLife Stadium, in East Rutherford, home to New York Giants and New York Jets of the NFL.