International Champions Cup
Saturday 30th July 2016
Kick off 15.00 Actual 15.04
Real Madrid C.F. 3 Chelsea F.C. 2,  attendance 105,826
19′ 1-0 Marcelo
26′ 2-0 Marcelo
37′ 3-0 M. Diaz
80′ 3-1 E. Hazard
90′ + 1, 3-2 E. Hazard
@ Michigan Stadium
1201, South Main Street
Ann Arbor, MI 48104
Admission $55 + $8 fees, Will Call ticket.
No programme.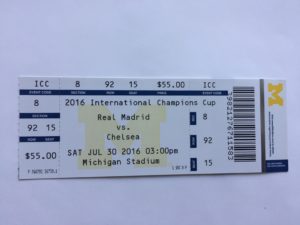 Coming off the highway I decided to park at the first car park I saw that was $20 or less. It meant a brisk 15 minute walk to the stadium, but I needed an easy escape route as I was flying home after the match. I was quite pleased that fifty yards past where I had parked the cost was $30 and a couple of hundred yards further on it was up to $40. The last car park coming in from this direction was absolutely heaving, despite charging an astronomical $60 !
Considering the majority of today's crowd were one off visitors, there was no signage up for the ticket collection point. I had printed a map off, so knew where to head for, but still went past the entrance as there was no clue that this was the way in. Do these stadiums even think about this in planning events. Obviously not, but at least I had plenty of time to spare, so not a great problem.
Michigan Stadium, known as 'The Big House', is the largest stadium in the United States, having a current capacity of 107,601. It is home to the University Michigan Wolverines American Football team. It was opened in 1927 and every game played here by the Wolverines  since 8th November 1975 has drawn a crowd in excess of 100,000. The record crowd stands at 115,109 when Notre Dame University Fighting Irish were the visitors on 7th September  2013.
Real Madrid were again without any of their better known players, but put in a much better display. Chelsea had regular starters Terry, Cahill, Azpilicueta, Willian, Matic, Oscar and Pedro in the starting line up, with Courtois and Batshuayi coming on at halftime and Hazard playing the last 25 minutes.
My record crowd for a friendly, set on Wednesday, certainly didn't last long. In fact, this was the second highest crowd ever to watch a 'soccer' match in the United States. The only higher one was in August 2014 when 109,318 saw  Manchester United v Real Madrid, again at ' The Big House'.
After the match I didn't have too much time to spare, but as it was less than half an hour drive to Detroit Metropolitan Wayne County Airport, making my 8.20pm flight home was comfortable.