Belgium
National League
Division 2 Amateurs V.F.V. A
Sunday 5th November 2017
Kick Off 14.30  On Time.
K.Sint-Eloois-Winkel Sport 3 V.K. Westhoek 1,  attendance 273
32' 1-0
44' 2-0
67' 3-0 (pen)
79' 3-1 (pen)
@ Ter Schuerenpark
Vlaschaardlaan 89
8880 Ledegem
€10 Admission (although no one in the pay box at 13.20 so not charged)
Team Sheet, free.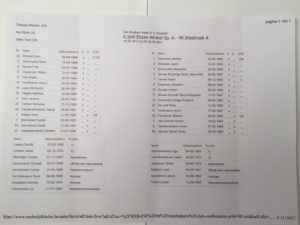 This was the second nearest Belgian League Ground for me from home, being just 150 miles drive each way. It was 7th v 5th, the visitors being quite local,  a merged club of K.V.K. Ieper and B.S. Poperinge, playing at the home of the former.
It was a bit of a slow burner and Westhoek only seemed to be interested when it was too late to do anything about it. Winkel certainly deserved the win and have stopped places with the visitors in the league table following this win.
We were booked on the 19.20 return, but were offered an earlier service at 19.06 when we arrived at check in. However, once through to the loading area, it became apparent that there was no 19.06 train and we actually failed to leave until 19.28 ! One day Eurotunnel might get the hang of running to a timetable, but after 20 years of practice they are far from achieving this.