Major League Soccer
Sunday 10th April 2016
Kick off 19.00 Actual 19.28
New York City F.C. 0 Chicago Fire 0,  attendance 22,930
@ Yankee Stadium
1, East 161st Street
The Bronx, NY 10451
Admission $30 plus $9.10 fees, print at home ticket *
No programme.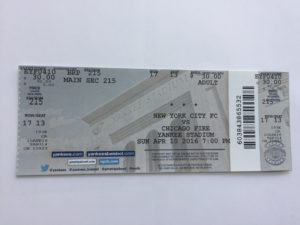 As stated earlier, there is a direct subway line, travelling north from Manhattan on Line 4 to 161st Street Station, where the Yankee Stadium is right in front of you as you exit the station. When my match ticket was booked, it was a print at home option, but this was then changed by Ticketmaster to an e-ticket accessible through your phone only.  I am not too keen on this method as if you lose your phone, or something prevents you getting a signal etc,etc, then you have no chance of getting into the match. Thankfully, after a phone call, I was able to change my ticket to 'will call', which was not an option for online bookings, and the ticket office is on the same side of the stadium as the subway station exit, so it took less than 5 minutes to collect. Very efficient in the end. Apparently the tickets are sent via phone to try and make it harder for touts to ply their trade.
The Yankee Stadium opened in April 2009 and is built one block north of the original home to MLB team the New York Yankees, who New York City share the stadium with, whilst waiting for their own stadium to be built, although whether they actually ever build a stadium of their own remains to be seen. Capacity here is 49,638 when used in MLS, although NYC are unlikely to ever see crowds of that number and today's turnout looked much less than the figure given.
If NYC play this poorly every week then it is little wonder the crowds are staying away. They may scrape into the end of season play offs, but any half decent side will surely have no problem beating them as they were absolutely dreadful. The visitors were simply dire, which sadly seems to be pretty much what the standard of the league is these days.
Today was also the first time I have seen hooliganism here in the States. A group of around 20 home 'fans' attacked two Chicago supporters in the toilets, but swift action by stewards and police soon had it sorted and at least a dozen were led away.