Major League Baseball
Sunday 10th April 2016
First pitch 13.10
New York Mets 2 Philadelphia Phillies 5,  attendance 37,233
@ Citi Field
123-01 Roosevelt Avenue
Queens, NY 11368
Admission $29
Programme ? Didn't look for one.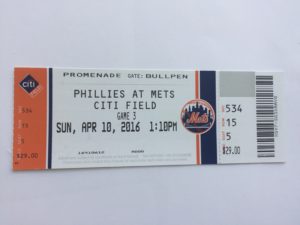 When I booked my flight from Montreal down to New York I hadn't even considered doing anything other than my evening game at 19.00. I only noticed the fixture on Saturday night and when I checked where it was I was surprised to see it was by both the airport and my hotel. However, my Air Canada flight wasn't due in to La Guardia until 12.20, which would mean my chances of making it for a 13.10 start were pretty slim. As it turned out, I was off the plane for 12.18 and checked into the hotel by 12.50. I was advised the next hotel shuttle to the subway drop off, Mets-Willets Point Station, was at 13.00. The station just happened to be right next to Citi Field. Despite the shuttle leaving a couple of minutes late, it was still going past the stadium before the game was due to start. The driver asked if any of us were doing the game and, even better, he  stopped right outside the ticket office as it was en route to the station drop off. What service! Having just bought the cheapest available ticket, on the top tier, it was into the first lift and into my seat as Mets were about to bat their first innings.
Citi Field opened on 29th March 2009, with a college baseball game. The Mets played their first game there on 3rd April 2009 versus Boston Red Sox, in an exhibition, before playing their first regular season game 10 days later against San Diego Padres. The capacity is 41,922, with the record attendance of 45,186 set for the 2013 All-Star Game.
After the game it was a couple of hundred yards walk to Mets-Willets Point Station and then taking subway Line 7 into Manhattan and then heading north for my next game. It was an hours journey, with just one change, and for a very reasonable $3.