Formula 1 United States  Grand Prix
Sunday 25th October 2015
Race start time 14.00
@ Circuit of the Americas
9201 Circuit of the Americas Boulevard
Austin, TX 78617
$99 admission
Programme, yes, but didn't bother at rip off price !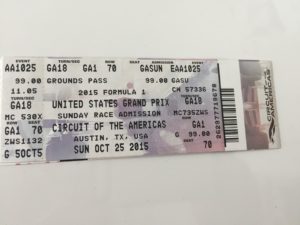 Car park had been booked, right next to our chosen corner for viewing the race, at an astronomical $75. However, a text message was received the evening before saying that the car park would not be open due to the rain of the last 2 days and we were to exchange our voucher for a shuttle bus journey from Austin city centre to the track, which was adding a couple of hours on the journey at each end. If that wasn't bad enough, this option was a lot cheaper than we had paid, so a very expensive alternative. Despite e-mail correspondence this matter has never been resolved and just to really rub salt into the wounds, we arrived to find them using the car park we had booked as a $25 cash option on the day !
I had been brought up as a Rally fan, during the great days of the Audi Quattro, Peugeot 205 T16, Lancia Delta S4 et al so it seemed strange to be watching so called super cars driving past at speeds of 200 mph and thinking I could hear the next door neighbour mowing his lawn  or my wife drying her hair !
This is certainly a sport far better viewed from the comfort of your own home and without the feel of being ripped off at every opportunity they can.
The F1 race was preceded by the Porsche Mobil 1 Supercup race and the Masters Historic Race, both of which featured proper sounding engines, but as the rain only stopped 5 minutes ahead of the F1 sadly this meant the drivers in these races weren't  able to push their cars to the limits.
As for the race……..a win for Lewis Hamilton saw him crowned as World Champion.
1. Lewis Hamilton….Mercedes
2. Nico Rosberg………Mercedes
3. Sebastien Vettel……Ferrari
4. Max Verstappen….Toro Rosso
5. Sergio Perez……Force India
6. Jenson Button…..McLaren
7. Carlos Sainz…….Toro Rosso
8. Pastor Maldonado…..Lotus
9. Felipe Nasr……Sauber
10. Daniel Ricciardo…….Red Bull Racing
The entertainment after the race was a concert by Elton John. Now, I am a fan of Elton and know a fair bit of his stuff, but when he started off with 6 of the first 7 songs unknown to me, then it was time to call it a day. Unfortunately everyone else seemed to have the same idea which meant a huge queue to get a bus back to Austin and pick up the car. We reached the car 3 hours later……..the same time as we could have driven the 200 miles back home from the car park we had originally booked !
Safe to say F1, this first time attendee at one of your events will not be returning for more.