Major League Baseball
Tuesday 5th April 2016
First pitch 19.05
Texas Rangers 2 Seattle Mariners 10,  attendance 28,386
@ Globe Life Park
1000, Ballpark Way
Arlington, TX 76011
$10 admission
Programme available, didn't bother.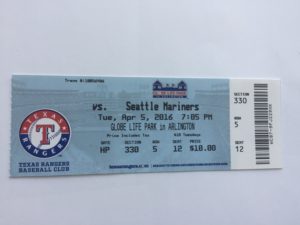 Globe Life Park was opened in 1994 and has a capacity of 48,114. The record attendance is 52,419. Despite being relatively new and a superb venue, the Rangers are looking to build a new stadium, just to the south of the current one, and be playing there by 2020.
When enquiring about tickets we were quoted $37, but that as a promotion by Dr Pepper, it was possible to get them for $27 if you show up at the ticket office with one of their products. No problem then, but when we arrived at the ticket office we were told it's '$10 Tuesday' so a real bargain. Why do these clubs have promotions running against each other ?  Pretty bad business I'd have thought ? Not wanting to walk too far meant $20 to park, but also nowhere to eat anywhere near the stadium, so food would be eaten inside. Not bad as it goes, although prices as you would expect, not cheap.
As for the game, Rangers were always in with a chance as they were only 2-4 down going into the eighth innings, but that was to change dramatically !