National Premier Soccer League
South Central Conference
Sunday 26th June 2016
Kick off 19.00 Actual 19.03
Houston Dutch Lions F.C. 4 Houston Regals S.C.A. 0,  attendance 102
1′ 1-0
12′ 2-0
69′ 3-0 (pen)
76′ 4-0
@ Dutch Lions F.C. Soccer Facility
14562, I-45 S
Conroe, TX 77384
$10 Admission
Programme free, 4 pages.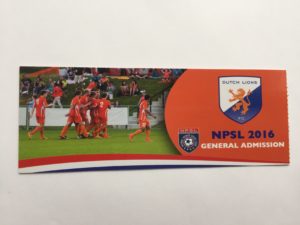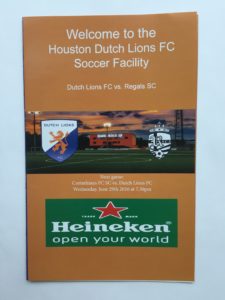 This would be the last day I would drive to a game with a 'hopper for company for the foreseeable future. A mere 205 miles south to Conroe, just north of Houston, adjacent to the I-45 highway.
Dutch Lions needed a win to guarantee their place in the play offs and bottom of the table Regals were unlikely to deny them, especially after going 2-0 down so early. It was already game over and two more were added late on before Regals had a man red carded five minutes from time.
Dutch Lions were founded in 2011 as Texas Dutch Lions F.C. and played their inaugural season in the U.S.L. Premier Development League. On 1st April 2013 their official name was changed to Houston Dutch Lions F.C.