National Collegiate Athletic Association Division I
The Summit League Conference
Saturday 5th November2016
Kick Off 19.00 Actual 19.03
Oral Roberts University Golden Eagles 1 University Nebraska Omaha Mavericks 3,  attendance 601
14′ 0-1
38′ 0-2
56′ 0-3
89′ 1-3 (pen)
@ Case Soccer Complex
7777, South Lewis Avenue
Tulsa, OK 74171
No Admission
Team Sheet free, double sided.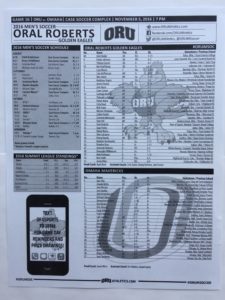 It was a 100 mile drive north east from Shawnee, the majority along the I-44, part of which is a toll road. Having clocked up 270 miles so far today, it was nice to know it would only be 248 miles home from here.
The visitors were very impressive, cementing their second place in the conference table in what was the final game before the end of season play offs. A minute into the second half play stopped, and after a short discussion a yellow card was issued to the Oral Roberts Coach. Apparently, they had started the second half with 12 players. Surely it was the Referee who was at fault, as he should have counted the number of players on each team before the restart ?