National Collegiate Athletic Association Division III
Scotts Valley Hilton Classic
Saturday 26th November 2016
Tip Off 14.00
Pacific University Boxers 61 Redlands University Bulldogs 59,  attendance 77
@ Kaiser Permanente Arena
140, Front Street
Santa Cruz, CA 95060
Admission $8 + $1.40 fee
Programme free, 8 pages.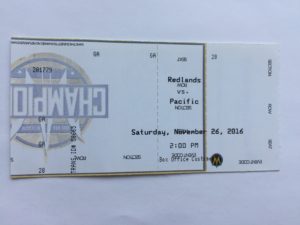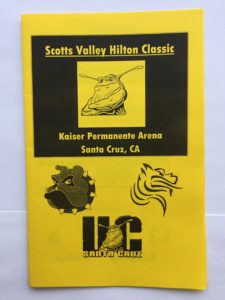 Having driven down the Pacific Coast Highway, Santa Cruz was an ideal stop off heading back north en route to dropping the hire car back at San Francisco Airport. It looked like it might be a nice seaside town, but was another place blighted by homeless types roaming the streets. In fact, the area around the basketball arena was particularly grim and i chose my car park carefully, going for the one with the least dodgy characters in the vicinity, although there were still two homeless living out of shopping trolleys camped there !
The Kaiser Permanente Arena is home to Santa Cruz Warriors, of the N.B.A. Development League. They are affiliated to the Golden State Warriors of the N.B.A. Since 2013 it has also hosted home games for University California Santa Cruz Banana Slugs basketball team. It was opened in December 2012, having cost $3.5 million to build and has a seated capacity of 2,505.
The Scotts Valley Hilton Classic is a 3 team, round robin tournament, with UC Santa Cruz acting as host. Last night, Boxers beat the hosts, so a win today would see them as tournament winners, which they achieved. They had trailed 28-30 at halftime and survived being taken to overtime when the Bulldogs attempt on the final buzzer rolled round the rim of the basket and back out.
It was unusual to buy a ticket on the day and still pay a fee on top of the admission price. It was also disappointing that the ticket was printed upside down. A minor detail, but annoying all the same.