Friendly
Saturday 5th March 2016
Kick off 19.00 Actual 19.10
University South Florida Bulls 1 Tampa Bay Rowdies 3,  attendance 1,500
38′ 1-0 N. Bartman
63′ 1-1 D. King
83′ 1-2 F. Adu
90′ 1-3 T. Heinemann
@ Corbett Soccer Stadium
4800, Elm Drive
Tampa, FL 33617
$5 admission
Team sheet free, double printed card.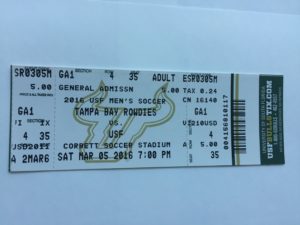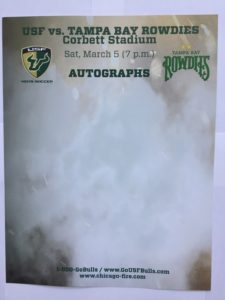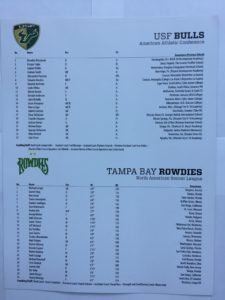 The Corbett Stadium was opened in 2011 and has a capacity of 3,000, with nearly 1,000 seats and has a bowl feel to it with grass banking on three sides. Apparently, the furthest seat from the pitch here, is nearer than the nearest seat was to the pitch at their former stadium, which is still in use for track & field.
Parked in the same car park as we had used for the basketball on Wednesday, but it was free tonight, as opposed to $10 charged then. A decent game that was played at a competitive pace throughout. Got a bit chilly towards the end so had to put on a jacket, but not bad for a night game in early March.