Rugby Football League
League 1
Sunday 11th June 2017
Kick Off 15.00 Actual 15.01
Doncaster 24 Barrow Raiders 24,  attendance 563
@ Keepmoat Athletics Stadium
Stadium Way
Lakeside
Doncaster
DN4 5JW
£15 Admission
£2 Programme, 36 pages.
Team Sheet, free.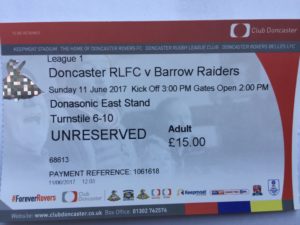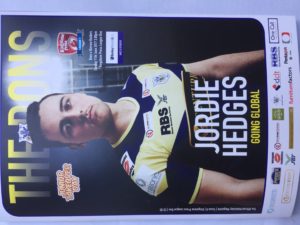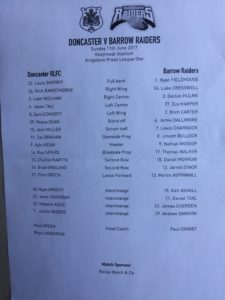 This was 4th v 2nd, although both dropped a place following this draw. Barrow went 0-10 ahead, reduced to 6-10, but they were further ahead, 6-16 at the break. When they stretched their lead to 12-24, it looked all over, but Doncaster went over for two tries, missing one conversion, to pull it back to 22-24 with a minute left, or so we thought.  Fifteen minutes into stoppage time Doncaster kicked a penalty to level it up.
With Keepmoat Stadium undergoing pitch work, it meant this game, plus the next home one, are being played on the Athletics Stadium next door, and another game being played at Featherstone Rovers.
This is the fourth home venue I have now seen Doncaster play on, following Tattersfield (10.1.93), Belle Vue (14.5.00) and Keepmoat Stadium (11.2.07). Oddly, I have seen Doncaster play seven times now, with three of the games finishing as draws. Apart from today, I saw them draw two away games, both 10-10, versus Trafford Borough (2.12.90) and Keighley Cougars (13.10.91).