Belgium
West Vlaanderen Provincial 2B Eindronde
Promotion Play Off Semi Final 2nd Leg
Wednesday 24th May 2017
Kick Off 19.30 Actual 19.31
V.K. Dadizele 1 R. Dottignies Sports 1 (3-2 aggregate),  attendance 445
26′ 0-1 (og)
30′ 1-1
@ Oliekotstraat
8890 Dadizele
€6 Admission
Team Sheet, free.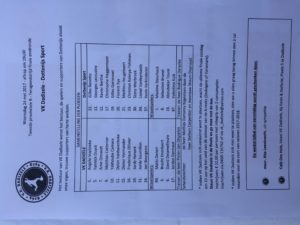 Apparently, Dadizele normally get around 70 spectators for home matches, so tonight's turnout was pretty impressive, even for a play off. Having won 1-2 at Dottignies, Dadizele always had the slight advantage, especially with the 'away goals' rule counting in the tie.
With the game level at 1-1, Dadizele had a player red carded on 61 minutes, then managed to get a second man dismissed eight minutes later. Dottignies failed to take advantage of the extra two players and then had a player sent off themselves on 84 minutes, but with the game now being 9 v 10, it was easier for Dadizele to hold out and go through to the final.
With tomorrow (Thursday) being a holiday in Belgium, it meant rather than racing back home at the final whistle, it was an opportunity for an overnight stop and a chance to take in another match, which would be between the two teams that were hoping to advance and play Dadizele for the final promotion place into Provincial 1.