Wearside League
Shipowners Charity Cup Final
Saturday 27th May 2017
Kick Off 14.00 Actual 13.59
Richmond Town 2 Cleator Moor Celtic 4,  attendance 349
6′ 0-1
48′ 1-1
53′ 1-2
66′ 2-2
88′ 2-3
89′ 2-4
@ Earls Orchard
Sleegill
Richmond
DL10 4RH
£2 Admission
£1 Programme, 12 pages.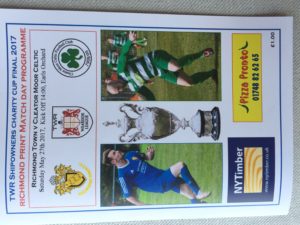 As the season draws to a close, it gets harder to pick a game where teams will actually turn up and play the matches. With this being a cup final, it was more likely to go ahead. Richmond had tweeted about the game earlier in the week, whilst the visitors had tweeted that they were running a supporters coach to the match, so it was game on. The visitors coach arrived just after 13.30, with a fair number on board clearly having consumed plenty of alcohol en route, disembarking and immediately urinating amongst the trees alongside the car park. A group of at least twenty of them then proceeded to walk along the path next to the river, before jumping over the fence into the ground in order to avoid paying the £2 entrance fee. So much for charity !
An excellent game ensued between the teams that finished fourth and third in the league, Cleator Moor having won the two league meetings between them, so the win was not unexpected and was achieved despite being drawn away in every round. It was the third time they have now won this competition, having lifted the cup in 2008 and 2013.
During the halftime break,there was a huge thunderstorm, with lightning and hail, which left water standing on the pitch. The Referee wouldn't restart the match until the lightning stopped, so halftime lasted 39 minutes.