Speedway
SGB Championship
Sunday 28th May 2017
18.30 Start
Newcastle Diamonds 46 Scunthorpe Scorpions 44, attendance 400 est.
Diamonds :
Robert Lambert 14 pts
Ashley Morris 5 + 1
Lewis Rose 6 + 2
Ludvig Lindgren 7
Steve Worral 9
Ben Hopwood 5 + 2
Connor Coles 0
Scorpions :
Michael Palm Toft 12 pts
Carl Wilkinson 4 + 1
Lewis Kerr 16
Ryan Douglas 0
Josh Auty – Rider Replacement
Tero Aarnio 10 + 1
Jack Parkinson-Blackburn (guest) 2 + 1
@ Brough Park
Fossway
Byker
Newcastle upon Tyne
NE6 2XJ
£16 Admission
£2-50 Programme, 28 pages
£1 Car Park.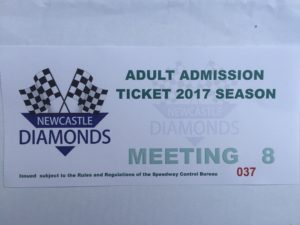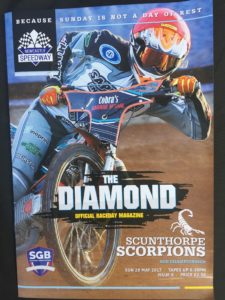 This was the first speedway meeting I have attended for around 24 years.  The result was in the balance right through the meeting, helped by the fact that three ex-Diamonds were riding for Scunthorpe, the pick being Lewis Kerr, who top scored with 16 points.
Newcastle took the first heat 4-2, but Scunthorpe took the next by the same score. Heat 5 went 4-2 in favour of the visitors, which put them ahead 14-16. Heat 10 finally saw Newcastle edge ahead 31-29, courtesy of a 5-1 from Lambert and Morris, but level again at 36-36 after heat 12. Newcastle took the next two heats by 4-2, giving them a 44-40 lead going into the final heat, leaving Scunthorpe needing a 5-1 to get the draw, but they were denied by Robert Lambert, who managed the all important second place, his only defeat from his five rides.
Brough Park first hosted Speedway in 1929, having hosted Greyhound racing a year earlier and Rugby League has also taken place here. Having closed in 1930, it was reopened in 1938, but had to close again due to WW2, re-opening in 1946, where huge crowds were reported, some as high as 20,000 !
Admission is available on-line, for £1 reduction, but Speedway is not the best sport for booking advance tickets, as it is so reliant on favourable weather conditions.