Belgium
West Vlaanderen Provincial Cup
Group C
Wednesday 26th July 2017
Kick Off 19.30  Actual 19.29
K. E.G. Gistel 2 S.K. Eernegem 0,  attendance 62
58′ 1-0
74′ 2-0
@ Stadion De Kegge
Pol Gernaeystraat 1
8470 Gistel
€5 Admission
Team Sheet, free.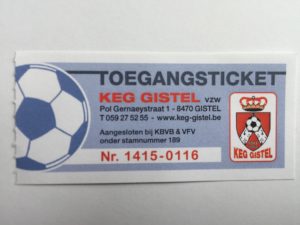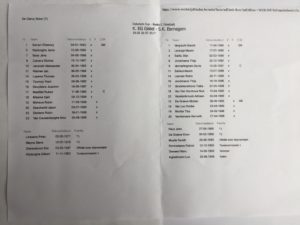 K. Eendracht Genootschap Gistel, to give them their full name, have played in the Belgian League, albeit some time ago, as have the visitors, although that was as recent as a couple of years ago. Nowadays they are back in the Provincial set up, this being level 2 versus level 1.
This was the first competitive game of the season in West Vlaanderen, brought forward from next weekend due to S.K. Eernegem having a match in the 1st Round of the Belgian Cup. It was a real slow burner, in which there were plenty of chances, but in the end probably a deserved win for the hosts.
The fact that Gistel is only an hours drive from The Tunnel meant we were on the 2250 crossing back, so despite numerous single lane sections on the M20, I was back home by 2340…..2 hours earlier than from Hull the night before ! Even better, the trip only cost us £20 each for Tunnel/Fuel.