Rugby Football League
National Championship
Sunday 16th July 2017
Kick Off 15.00 Actual 15.03
Swinton Lions 20 Dewsbury Rams 42,  attendance 1,002
@ Sale R.U.F.C.
Heywood Road
M33 3WB
£17 Admission
£3 Programme, 32 pages.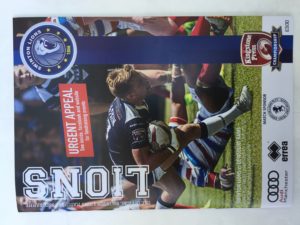 Swinton have been playing their home matches here at Sale R.U.F.C. since 2016. The stadium opened in 1905 and following the move of Swinton here, a new General Safety Certificate was required, resulting in the 5,400 capacity being reduced to the current 3,387.
This now takes the number of home venues I have seen Swinton play at to six, having previously seen them at Station Road (12.1.92), Gigg Lane, Bury FC (15.11.92), Edge Hall Road, Orrell RUFC (9.6.00), Moor Lane, Salford City FC (8.9.02) and Park Lane, Sedgley Park RUFC(1.2.04).
The game itself was a relegation battle, as second bottom hosted fourth bottom. Despite getting the first try, Swinton went in at the break 14-24 down. Dewsbury went over to increase their lead to 14-30, before Swinton converted a try of their own to stay in it at 20-30, but the comeback was short lived as Dewsbury added two more converted tries.
Dewsbury are now safe from the drop, and despite this defeat, Swinton could still overhaul third bottom Oldham, who are just one point above them, as they travel to bottom of the table Bradford Bulls in their final match.