Major League Soccer
Sunday 10th July 2016
Kick off 19.00 Actual 19.18
Sporting Kansas City 3 New York City F.C. 1,  attendance 19,881
8′ 1-0 B. Feilhaber
14′ 1-1 F. Lampard
16′ 2-1 J. Medranda
51′ 3-1 I. Opara
@ Children's Mercy Park
1, Sporting Way
Kansas City, KS 66111
Admission $43 + $9.90 fees, Print at home ticket.
Team sheet free, single card, printed double sided.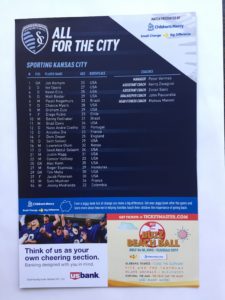 It was a comfortable drive from the baseball, with free parking across the road at Kansas Motor Speedway, no more than 5. Minutes walk from the stadium.
It has to be said, even by American standards, this is an awful name for a stadium, having originally being named Livestrong Sporting Park, then plain old Sporting Park, since it opened in 2011. Then again, as long as a large enough chunk of money is thrown at the club, then there is no interest whatsoever in what Sponsors name it is given.  How long before we see a Hemorrhoid Stadium or Viagra Park ? The stadium actually seats 18,467, but capacity is set at 21,000 for SKC matches with standing room. There certainly looked less than the quoted crowd for tonights game.
It started off pretty well, but tailed off badly in the second half. Before the game, I have to say I didn't recognise any player listed for SKC and despite having the misfortune of seeing NYCFC a couple of times previously, it was still only Pirlo, Villa and a slightly less overweight than last time, Lampard that rang a bell. I still don't know how  the visitors are challenging for the title, as once again they were dire. Then again, the M.L.S. as a whole is of a very poor standard anyway, so a team wouldn't necessarily need to have any quality to finish top of the pile.
After the match we headed east, to Independence, MO, as a couple of our party liked the sound of the place. At night, it looked deserted and unwelcoming, but we booked into a hotel and found somewhere to eat, so at least it ticked a couple of boxes. Perhaps it would look better in daylight.